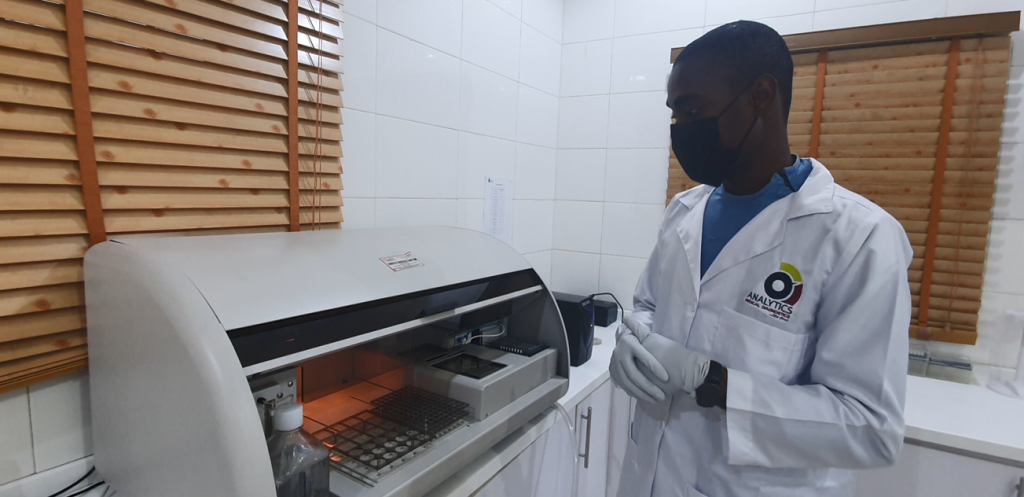 Analytics Medical Diagnostics Limited(AMDL) is a world-class diagnostic center with cutting-edge laboratory and radiology facilities and techniques to accurately diagnose pathologic conditions within a short turnaround time.
Analytics Medical Diagnostics has the best medical laboratory for all microbiology, serology, molecular tests and screenings, and a word-class radiology center for all radiology examinations.
OUR DIAGNOSTIC SERVICES
HEMATOLOGY AND COAGULATION SERVICES
We have an automated clotology machine that quantifies all factors (I, II, III, IV, VII, VIII, IX, X, XI, XII, XIII) of the coagulation cascade (Pro-coagulants, Anticoagulants, and FDPs (D-Dimer)). Also Provides full coagulation profiles for coagulopathies like disseminated Intravascular coagulopathy (DIC).
We have two modern Hematology analyzers for complete/full blood count with all 26 blood parameters including platelets, red blood cells, leucocyte indices, and a brief interpretation of abnormal parameters.
We also have seasoned Hematologists for peripheral blood film reading and the identification of malignant cells and availability of basic investigations like Coombs tests, fetal hemoglobin quantification, reticulocytes count, ESR, etc.
AVAILABILITY OF BLOOD PRODUCTS AND BLOOD COMPONENTS
We supply blood products; fresh frozen plasma, cryoprecipitate, packed red blood cells, platelets, Leucocyte reduction, Irradiated blood, washed red blood cells which is very useful in certain hemoglobinopathies, and coagulopathies.
MEDICAL MICROBIOLOGY AND HISTOPATHOLOGY SERVICES
We have an automated machine for the identification and sensitivity of bacteria and fungi within 8 hours using the VITEK 2 COMPACT machine with incorporated 126 antibiotics and 74 antifungal agents for effective sensitivity.
We also have an automated machine for culture of fluids, it detects pathogenic presence in sterile fluids (blood, CSF, pleural, etc.) within 24 – 48 hours.
We also have a large autoclave machine that makes it possible to mass-produce all culture media types (Selenite F, Chocolate, McConkey, CLED, DCA, SSA, etc.) for laboratories and other facilities.
CLINICAL CHEMISTRY SERVICES
Fully automated Chemistry profiles and hormonal assays: Tumor markers (B2 Micro-globulin, CA 125, CA 15-3, CA 19-9, PSA, CEA, AFP), Cardiac markers (Troponins, BNP, CKMB, etc.), Enzymes (amylase, lipase etc.), endocrinology/hormonal profiles, Fertility studies, anti-Mullerian hormone, basic clinical chemistry investigations like renal and liver function tests, ferritin, Bence Jones Protein, Folic acid, Lactic acid, Iron profile, Transferrin, Lipid profile, Myoglobin, Thyroid function tests, etc.
SEROLOGY, INFECTIOUS DISEASES, AND IMMUNOLOGY SERVICES
P24 antigen for early HIV detection, Viral Hepatitis (A, B, C, D, E) tests, Hepatitis B panel test, ASO for streptolysin infections, Anti CCP, TORCH panel, Varicella Zoster IgM, Herpes IgG, Rubella IgG, Mumps, Meningitis, Measles, Brucella IgG H. Pylori antigen etc.
MOLECULAR SERVICES
Analytics have a fully equipped and accredited molecular laboratory for diagnostic and research purposes. The diagnostics tests includes; Covid 19 RT-PCR, DNA Paternity testing, Gene sequencing for thalassemia, HIV, Hepatitis B and C Viral load, Mycobacterium Tuberculosis tests, Early infant diagnosis for HIV, PCR Neisseria Gonorrhea.
RADIOLOGY SERVICES
Availability of Magnetic Resonance Imaging (MRI) machine, X-ray, Ultrasound services (sonography, follicular tracking, Breast, Gluteal, Transvaginal, all joints, Soft tissue, testicular, scrotal, prostatic, thyroid, lower limbs arteries, veins, etc.), Cardiology ECG (Rest, Stress, spirometry, and Echocardiogram).
HOME COLLECTION AND PICK-UP TEAM
In order to make things easy for our referring physicians and clients, we have a well-trained and mobile team that can come to your homes, facilities, or clinics for sample collection and patient pick-up when necessary.
We are located in Port Harcourt at 52, Orogbum Crescent, G.R.A Phase 2, Port Harcourt, River State Nigeria.
Phone: +2347025007770, +2348094696666